Sumitomo Mitsui Trust Asset Management and Osmosis (Holdings) Limited Enter into Legally Binding Agreement for Strategic Partnership
Sumitomo Mitsui Trust Asset Management Co., Ltd. ("SuMi TRUST AM") and Osmosis (Holdings) Limited ("Osmosis") a UK-based sustainable investment manager specialising in a resource efficient strategy, have entered into a legally binding agreement to form a strategic partnership. This follows the 7 July announcement* of a non-legally binding agreement.
* SuMi TRUST AM and Osmosis into Basic Agreement for Strategic Partnership | SuMi Trust Asset Management (sumitrust-am.com)
Under this partnership, SuMi TRUST AM and Osmosis intend to collaboratively develop new products and strategies, which involves the collaboration between Osmosis and SuMi TRUST AM's respective investment/research teams to promote speedy product development. The partnership also stipulates that SuMi TRUST AM will become a minority shareholder in Osmosis. SuMi TRUST AM's acquisition of a minority stake is subject to regulatory approval by the Financial Conduct Authority of the UK (FCA) and is likely to be completed by the end of April 2024.
Osmosis, founded in 2009 and headquartered in London, is a research-based, quantitative investment manager focused on delivering better risk-adjusted investment returns with better environmental outcomes. Its investment philosophy is based on the view that companies that are more resource efficient are more likely to outperform their peers over the long term. The Osmosis portfolios overweight resource efficient companies and underweight, or short, inefficient companies as identified by the Osmosis Model of Resource Efficiency.
Image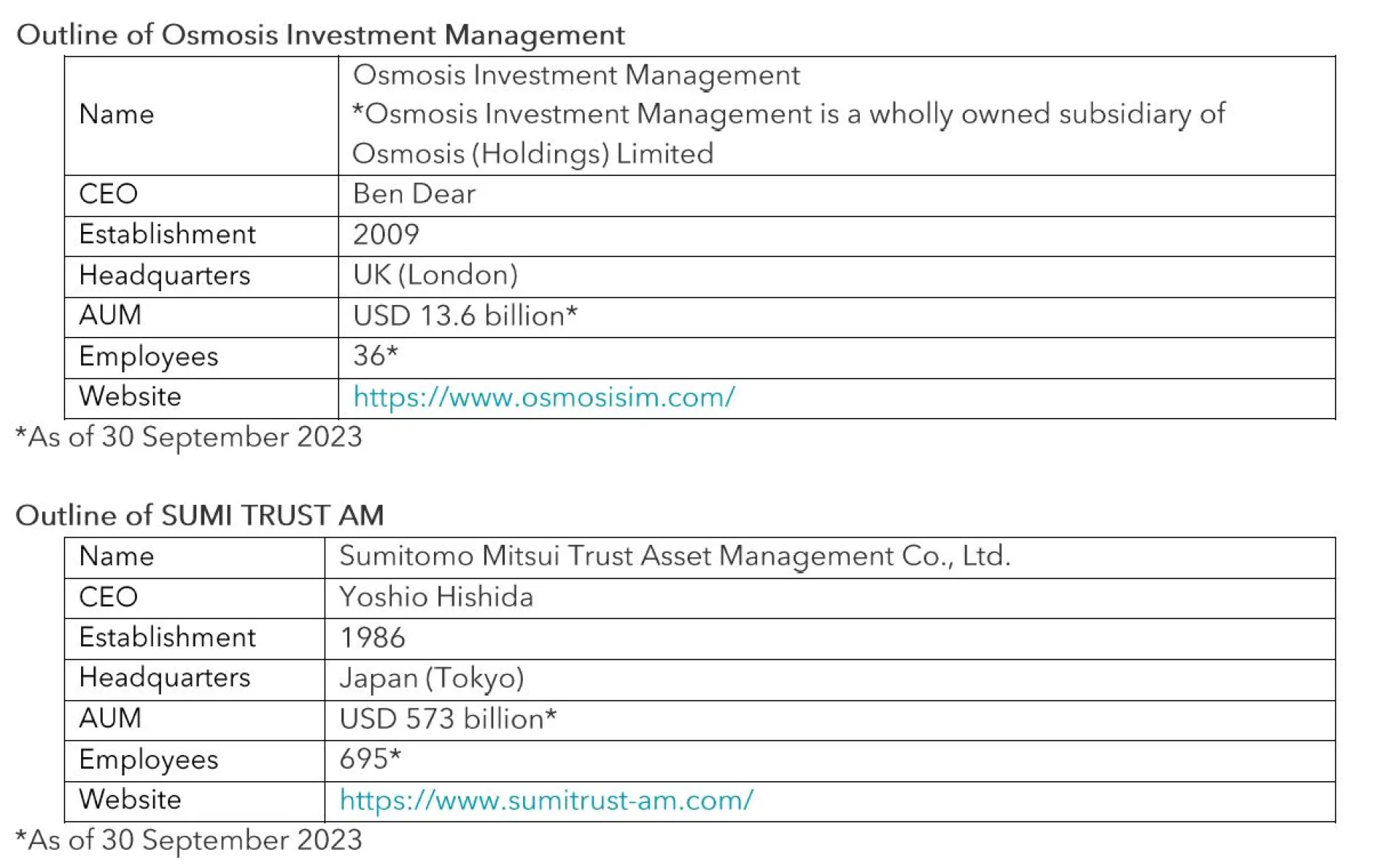 Disclaimer
This document has not been approved by or registered with any regulatory or governmental authority in any jurisdiction. The information and opinions contained in this document do not purport to be full or complete and do not constitute investment advice. All copyrights regarding this material, other than the parts quoted from other companies' materials, belong to Sumitomo Mitsui Trust Asset Management Co., Ltd. This material may not be used or reproduced in part or in whole for any purpose without its express permission. Should you have any questions as to this material, please address them to the Global Business Development Department.