Setting Clear Corporate Purpose to Address Sustainable Development Goals
In September 2015, 193 Member States of the United Nations unanimously agreed to set the SDGs and pledged to pursue a better future whilst seeking a balance between meaningful economic growth, environmental well-being, and social justice. The SDGs are intended to be achieved by 2030. With less than ten years to go, alongside governments, corporates play an essential role in the achievement of the SDGs. Despite corporate commitments to meet the SDGs, corporate businesses have been traditionally focused on maximizing profit instead of sustainable value creation which tends to be contradictory. However, with a call for corporates to address global challenges, many companies are starting to address this contradiction by setting clear corporate purposes and building businesses around them. Corporate purpose is a company's fundamental reason for being that goes beyond profit. It often becomes a guideline when setting a firm's corporate mission, vision or strategies. Corporate purpose is also to define and deliver long-term value not just to shareholders but also to all stakeholders which include employees, customers, suppliers, and communities. In that sense, we consider corporate purpose to be an alternative business approach which addresses the contradiction between profit maximization and sustainable value creation. By setting a clear corporate purpose and aligning it with one's business practice, we believe companies can realize opportunities that generate financial returns sustainably while also creating long-lasting social and environmental impacts.
Purpose in the Japanese Corporate Scene
Surprisingly, this business approach, implementing a corporate purpose into business practice, is not new in the Japanese corporate scene. Even though many have drifted away to pursue profits with the adaption of western capitalism, some Japanese companies have been passing down this idea for over one hundred years. Eiichi Shibusawa (1840-1931), known as the "father of Japan's modern capitalism," applied many similar principles to today's SDGs while involved in founding over five hundred enterprises and economic organizations, such as the Tokyo Stock Exchange and the First National Bank, which is the origin of Mizuho Bank. Shibusawa often spoke of his belief in achieving the "unity of morality and economy," and consistently argued that business leaders should not just consider profiting themselves, but rather think of benefitting society. Although the general understanding of that time was that morality and economy tend to be mutually contradictory, Shibusawa consistently insisted that balancing between moral principle and profit-making is compatible in the business scene and had guided his own business activities based on his beliefs. Through his own engagement activities, he continuously demonstrated that only businesses that are mindful of social responsibilities can achieve stable and long-term growth. Today, Shibusawa's beliefs are still referred to or referenced by many Japanese companies. Panasonic, the electronics conglomerate, is a good example of a firm that still exercises the corporate purpose set in 1929 by its founder, Konosuke Matsushita, who claimed the purpose of corporations is to end poverty and championed the so-called "Tap water philosophy." Matsushita claimed that a conglomerate's purpose is to make products as plentiful and affordable as tap water so every household can own its products. And by making its business essential to everyday life, he insisted that the company would be able to generate long-term profits while conducting social change as well. Even now, Panasonic is pursuing a modern version of the tap water approach with its home appliances. Just like Panasonic, we still find many companies that practice their business guided by a clear corporate purpose. 
The Business Roundtable Promises to "Deliver Value" to All Stakeholders
Corporate purpose is also gaining attention in the US. In August 2019, the Business Roundtable (the "BRT"), an association of Chief Executive Officers (CEOs) of major US companies, released a new Statement and redefined the Purpose of a corporation. Overall, the Statement seeks to move away from shareholder primacy, and reorient to "deliver value" not just to shareholders but also to non-shareholder constituencies ("stakeholders"), such as employees, customers, suppliers and communities. The shift was viewed as a major milestone for corporate America as it was considered that the purpose of a corporation was to generate long-term value for shareholders since the BRT published its first Statement in 1978. Because of the economic significance of the BRT companies, the changes in how the BRT sees corporate purpose was also a turning point for Japanese companies. 
Going Back to the "Good Old Way"
Following the shift in the US, some Japanese companies are bringing back their corporate purposes from back when these companies were just starting out. 
ITOCHU CORPORATION (8001 JP), one of the largest wholesale trading and importing/exporting companies in Japan, redefined its purpose in April 2020 and brought back its corporate purpose "Sampo-Yoshi" from when the company was founded in 1858. The founder was a merchant based in the former Ohmi Province of Japan (current Shiga Prefecture), and this is how the company brought back the founder's good old merchant spirit. 
In Japanese, "Sampo" means three directions, and "Yoshi" stands for good. The three directions here are 1) sellers ("Urite"), 2) buyers ("Kaite") and 3) society ("Seken"). Altogether, the company's corporate purpose is to satisfy both its employees and customers and contribute to society along the way (Figure 1). 
 
Image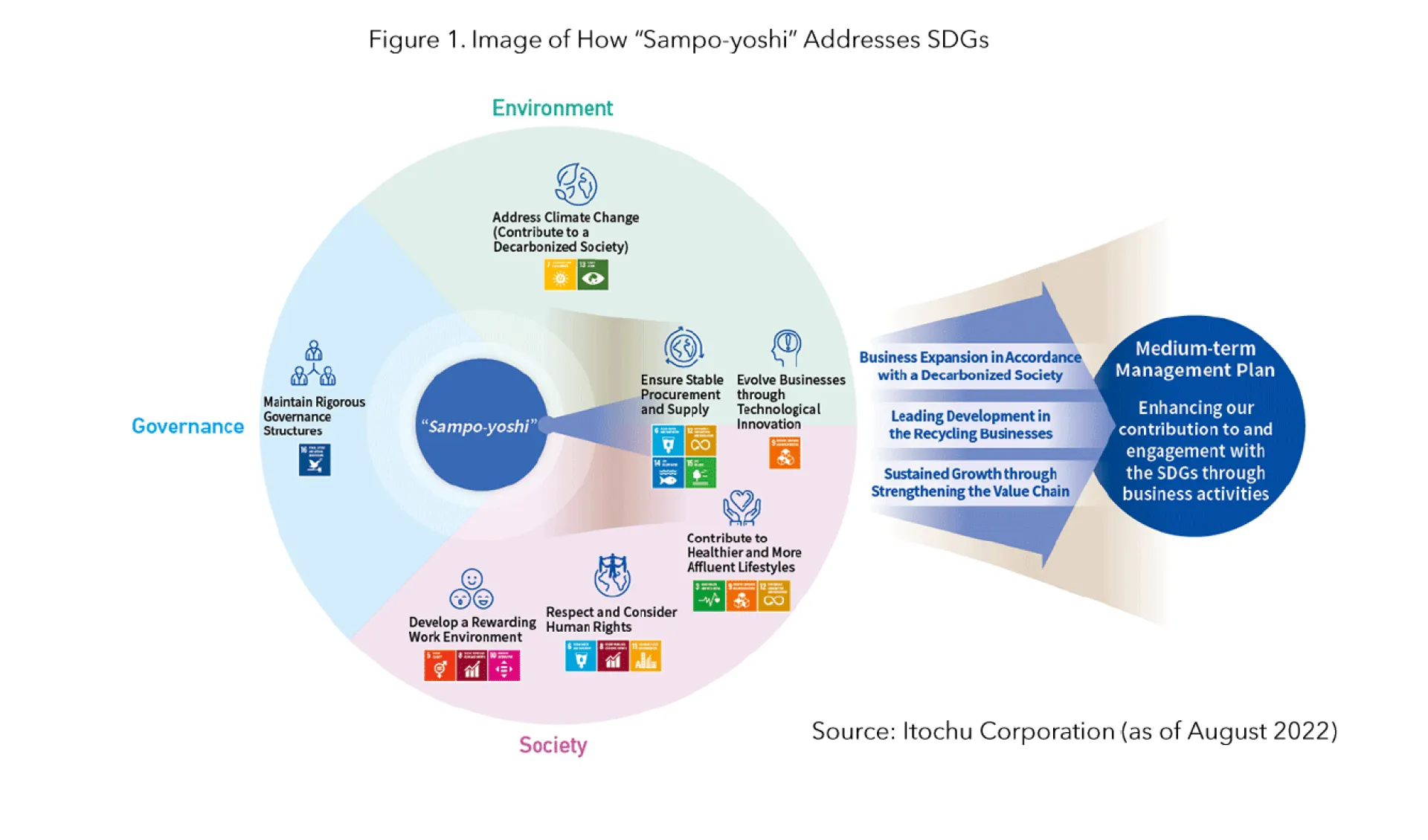 By setting a clear message in its corporate purpose, the company showed its commitment not just to pursue profits but also to generate value for all stakeholders and to address social and environmental issues. In order to establish this foundation, the company considers that employees play fundamental roles and promoted freedom and flexibilities for different workstyles, so that each and every employee can carry out their best efforts to fulfil their mission as a "merchant". As a part of its efforts, ITOCHU implemented rather bold reforms to improve its work environment for its employees' well-being, including initiatives that offer more freedom to its employees to choose the time (when), location (where), and manner (how) in which they work, which is still very rare in the Japanese corporate scene. These efforts have been successful, resulting in a significant "improvement in labour productivity" (Figure 2). 
Image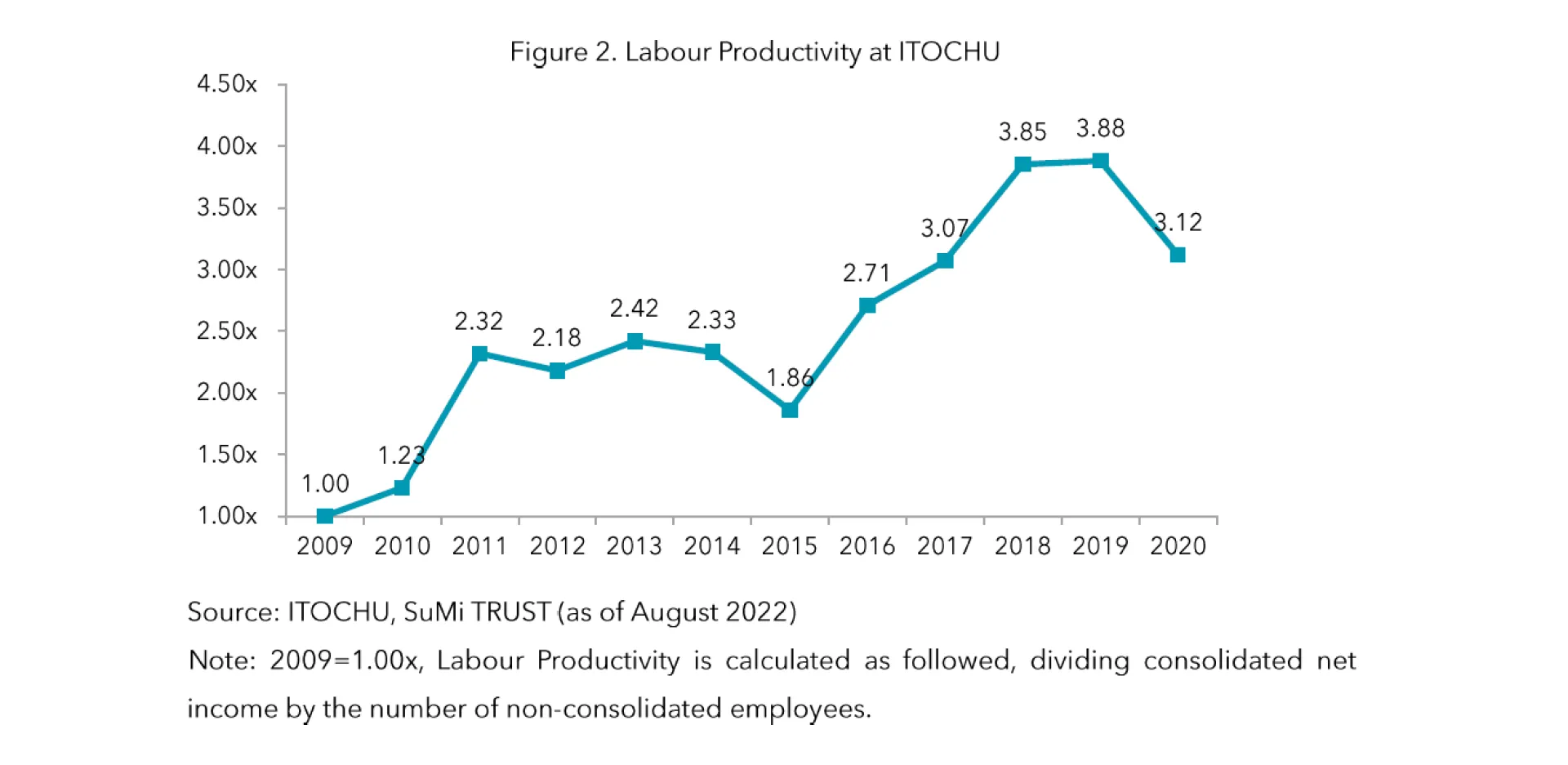 With the initiatives for its female employees such as accelerating promotions or establishing support systems to come back to work after giving birth to their children, the fertility rate within the company is on the rise since the company started its reform in 2013. The total fertility rate at ITOCHU was 1.97 in FY2021. This is much higher than the national average of 1.33. Improvement of the work environment has resulted in better employee productivity and satisfaction, which is also applauded by the stock market (Figure 3).
Image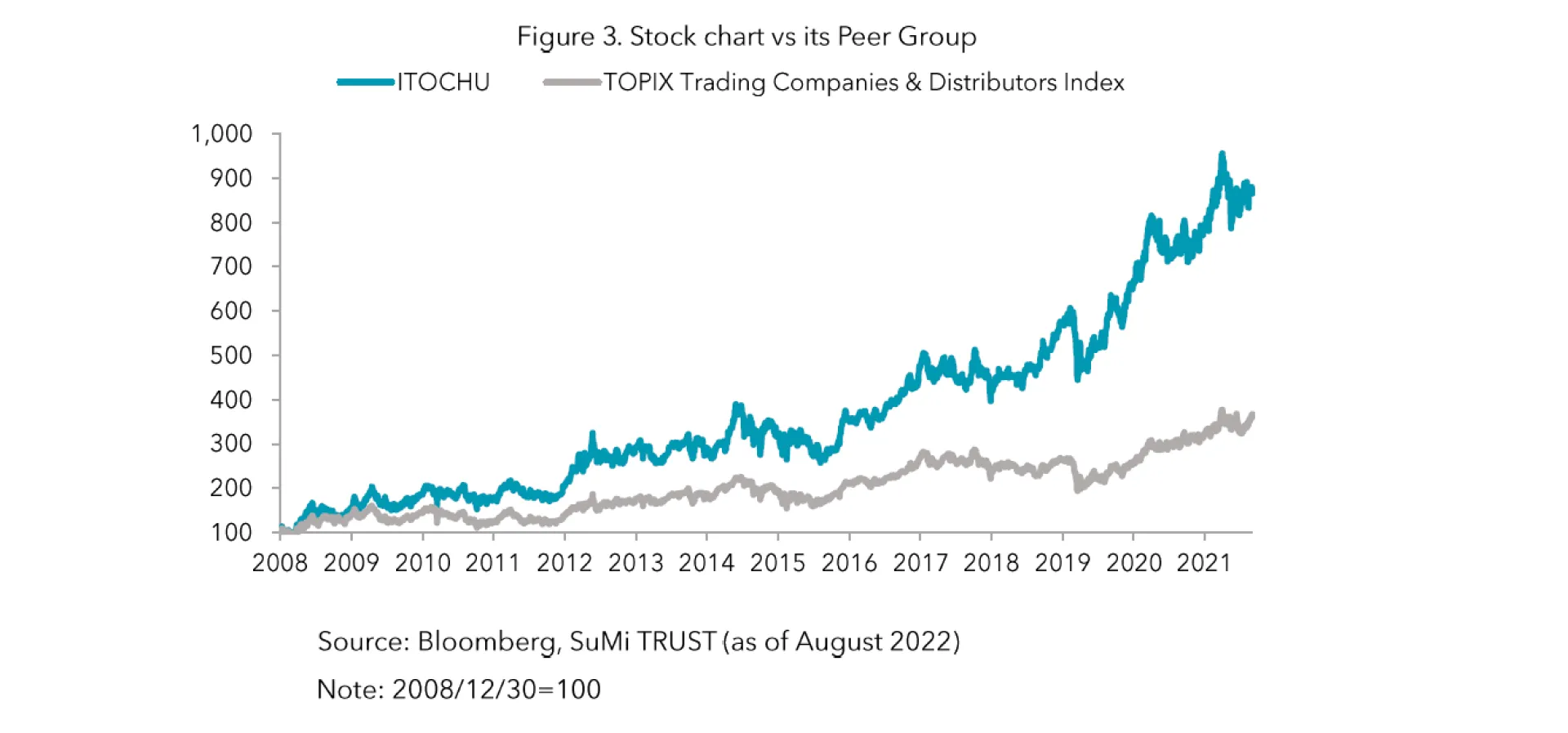 ITOCHU is a great example to show us how the company can achieve sustainable growth while making social impacts at the same time.

AJINOMOTO (2802 JP), the world's largest maker of amino acids, is another company that aims to resolve social issues through its business. Ajinomoto states in its mission statement that the company's purpose is to serve greater wellness for people worldwide, unlocking the power of amino acids to resolve the food and health issues associated with dietary habits and ageing. The company also set a specific agenda to help extend the global life expectancy of one billion people and reduce its environmental impact by 50% while improving business performance by 2030. The core of its purpose has been carried on for over one hundred years. In 1908, its founder, Dr. Kikunae Ikeda discovered that the flavor component of kelp broth is glutamic acid, one of the amino acids, and named it "Umami." Dr. Ikeda then founded the company to help people become healthy using umami. Now the company is still pursuing the same goals to "solve social issues through business" and to "improve the health of Japanese people through Umami." With this as its core purpose, Ajinomoto aims to address people's health and nutritional issues. The company claims to reduce lifestyle diseases such as metabolic syndromes or diabetes which are often caused by excessive nutrition, by utilizing its amino acid technologies and capabilities (Figure 4).
 
Image
As part of its efforts, the company has developed various kinds of packaged seasoning mixes and offers simple recipe notes at the entrance of supermarkets, or cooking videos which people can easily access through QR codes on its products. These efforts have resulted in an increase in domestic vegetable consumption. 

Overall, companies that have flawlessly implemented their corporate purposes into business practices have been successful with both business/financial expansion and social/environmental value creations. Because this is the business approach that has been passed down for over one hundred years in the Japanese corporate scene, it is not surprising for many companies to go back to their origins amid the global attempts to address SDGs. Especially with the urgent call to meet the global agenda, this shift could accelerate. To summarize, SuMi TRUST believes corporate purpose is the source of stable and long-term growth for companies. And as a Japanese equity research analyst, I personally believe that corporate purpose would be the driver for the long-term growth of Japanese companies and for the accomplishment of the SDGs. As Shibusawa says, "balancing between moral principle and profit-making is compatible," and if companies realize their fundamental reasons for being and align them with their practices, they can start making real changes.